Lake Shawnee is located off of US Route 19 , 4.5 miles north of Princeton, West Virginia. It was once similar to a theme park. Below you will find postcards of Lake Shawnee during its hay-day. If you more information on Lake Shawnee please email me at Usroute03@mybluelight.com. The lake area is now overgrown and deserted.
This is the lake area as depicted around 1935. Notice its located on state route 21..which became US 19 & 21.
This is the swimming pool around 1939. Notice the large hotel in the background. This is looking westward, probably standing on US 21.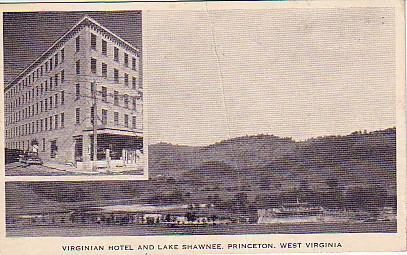 An advertisement postcard from about 1940. Note the hotel on the right side. The row of trees in the middle is probably adjacent to US 21.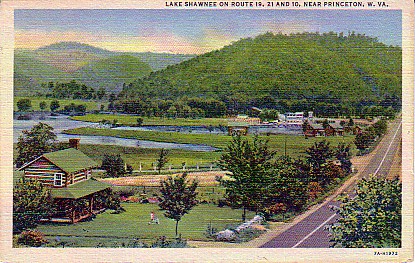 This is the lake around 1947. Notice that US 19 & 21 was paved while WV Route 10 is dirt. All of the buildings in this postcard have been razed except the log cabin on the left. US 21 was removed from the WV transportation system in 1972. The road is now just US 19.
Visit the area sometime to see the lakes Ferris wheel!